This patient's case is unfortunately a too common one.
A young man was desperately seeking to improve his hair appearance by a surgical hair restoration and got dazzled by the promises and the low-cost offers that are heavily advertised by a beauty clinic. These kinds of facilities attract people interested in getting a hair transplant, based on heavy advertising and extremely low rates.
What they never explicitly tell the prospects are:
that the hair transplant is performed by unlicensed technicians and not certified, trained physicians.
that the survival rate of transplanted follicular units is extremely low.
that no patient care is provided after the procedure.
This case study was presented by Dr. Konstantinos Anastassakis MD, PhDHead & Neck Surgeon, ISHRS Member, Diplomate and Member to the Board of Directors ABHRS, President  of the Hellenic Association of Hair Restoration Surgery HAHRS/ELAMAT.

A thin and unnatural result, unhappy patient and depleted donor area and an overall catastrophe is what you get from them.
7 months ago Vaggelis was selected to participate in Dr. Anastassakis' pro bono hair restoration program, intended to help people who have experienced this kind of fraud! At the age of 28 and already experiencing a severe thinning due to hair loss, Vaggelis decided to visit one of these heavily advertised facilities. These kinds of facilities use "clickbait" online and offline advertisements on hair transplant, with offers and promises extremely enticing.
Vaggelis visited one of these facilities, taking into account only the low-cost offer. The consultation/sales "pitch" is identical in all these clinics. A sales consultant welcomed Vaggelis.
Weapon of persuasion #1: A photo book, usually with stolen pics from the Internet, showing before and after cases, used as a proof of their results in hair transplant. Most of these pictures were photos of celebrities hair transplant cases used by at least 4 different "hair clinics". Each and every one of them claims that they had performed those celebrities' hair transplants and that all others were lying!
Weapon of persuasion #2: Emotional roller coaster ending to emotional blackmailing. The sales consultant gave him a presentation with all the things involved so perfect that he could not be more persuaded. "There would be no pain and no scars because we have this new scar-less technique, you will have your hair back just as you were in your 20's, etc. And please consider that due to this special offer we give you now you can get twice as many hairs at half price. The only thing you have to ask yourself is this: Do you really want to continue seeing yourself in the mirror and not having hair, DO YOU?"
Of course, there was no physician or hair surgeon present at any time. For a brief moment an anonymous person wearing a white medical blouse, -the "doctor" as the consultant referred to him- dropped by to say hello. There was no medical examination or any further interaction.
From this point began the intensive pressure to "Take the offer now". Vaggelis was urged to take the offer at this very moment; otherwise, he would lose this absurd low price and the chance to have his hair back! It was a one-time deal and he had to agree on the spot!
BEFORE rEPAIR
AFTER REPAIR
So he did. The procedure lasted about 3-4 hours in a small windowless room. 2-3 people were present, more likely technicians.
When it was over, they told him that all went well and that he would have an excellent result. They asked to see him again after 3-4 days. At that visit, they repeated that everything seems right and that they would like to see him again after 4 months.
During the following 4 months, there was no noticeable hair growth. Vaggelis could not see any hair growing.
PICTURES BEFORE REPAIR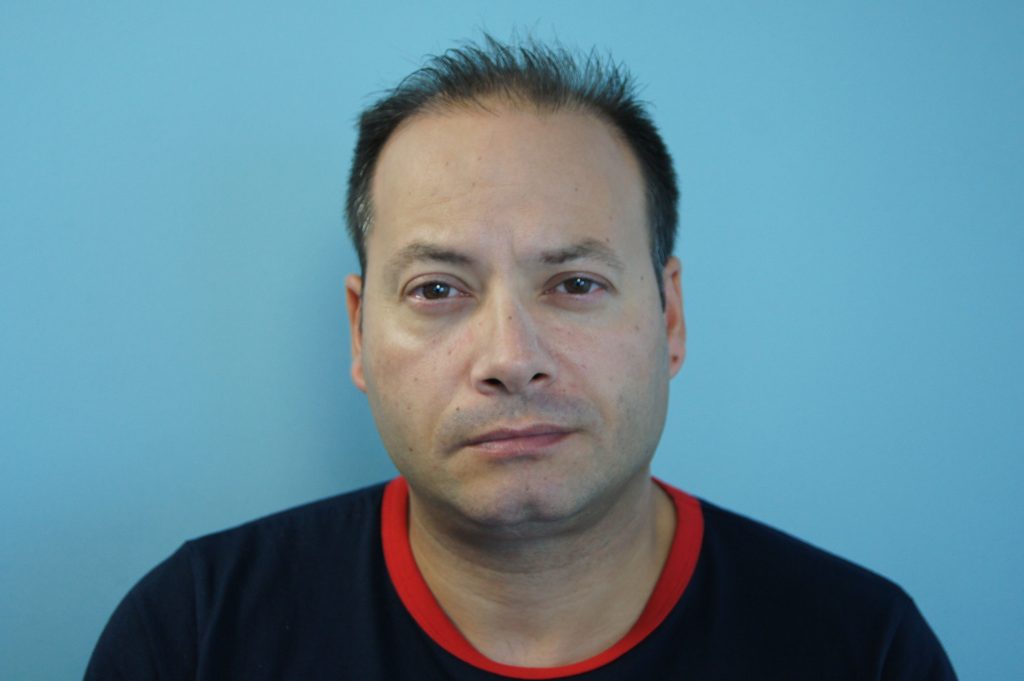 In his 4-month appointment, he mentioned this and they told him it was too early and that he must be patient and that he would see results in time.
Time went by and there was still no change. Month after month all he saw were some scattered hairs on the temples and a few on the top. The result was unnatural and ugly. He felt that he had been misled and his frustration was great. But most of all he was disappointed and unhappy and he was trying to hide the result. He avoided going out, he used a hat often to hide his hair and he was experiencing a lot of emotional turmoil.
He considered visiting another clinic to see if there is anyone who could help him, but he feared of being cheated again with bogus promises.
"One day I was just browsing on the Internet and I found an article about Dr. Anastassakis and his pro bono hair restoration program, made to help people like me!" Vaggelis said.
"I truly wanted to have a second chance and get rid of the bad result. I was too afraid to speak out till then but, this time it was a REAL physician and reading his article I realized for the first time how a hair transplant procedure should be done!"
Vaggelis arranged an appointment with Dr. Anastassakis. After a thorough examination and medical assessment he told him that this unnatural result could be reversed, his donor area was damaged but not depleted and he can give him a dense and natural result. "He is the only one who told me the truth and explained to me in detail the way he would help me. I was so relieved! It was my chance to get my life and my looks back" Vaggelis said.
It 's been 7 months since Vaggelis underwent a repair hair transplant surgery with Dr. Anastassakis.
"I still can't believe my eyes, nor the photos!" he says.
PICTURES AFTER REPAIR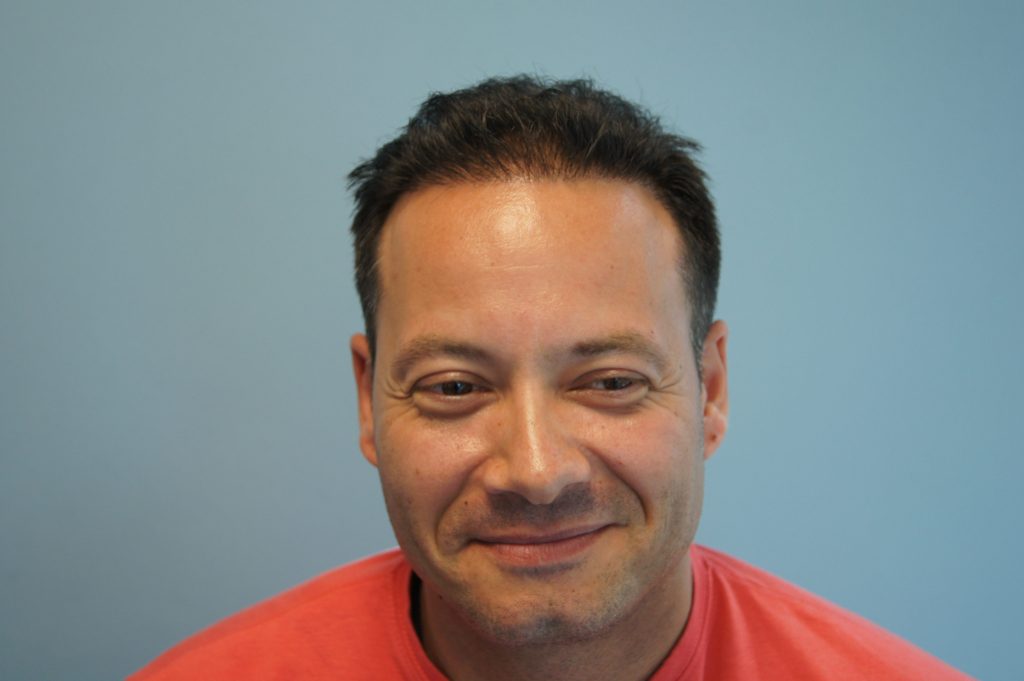 He can't believe that only in 7 months he is already experiencing results and he has thick, natural hair. "After this repair session, everything seems to be back in place in my life! I feel confident, no more hats and no more excuses not to go out. I look straight in the mirror grooming my hair and I catch myself smiling. My family and friends are amazed by my result and actually, some of my friends still wonder if this hair is mine. They even touch them to see if they are real! I have my hair cut regularly and my barber could not spot scars in the donor area. He told me that I am so lucky to have such a good result. He has seen so many unnatural hair transplant results and people trying desperately to hide them.
I know it is not luck but research and trust that led me to the right decision this time. I had a carefully planned surgical hair restoration by a physician, I was fully and in-detail informed and I had in every step my physician beside me. I honestly couldn't ask for anything more and I am incredibly happy with the result, after all these years of frustration and disappointment".
Dr. Anastassakis points out that Vaggelis' case is one of too many, unfortunately. "An enticing low-cost offer, an all-inclusive travel destination, a "no-touch", "non-scar", "no-pain" procedure, all these attract by the thousands young people eager to have a hair transplant.
The number of bad results is growing exponentially, and it will continue to grow unless all of us involved, speak up! This is not limited to physicians, hair surgeons, and medical associations but also involves the patients that have already experienced a bad result. There are thousands of people out there trying to hide ugly unnatural results, permanently scarred both physically and emotionally. Speak up and let your story be known by others.
Vaggelis has suffered from a very bad hair transplant result, but he decided to act. He learned from his dearly paid previous bad decision and decided not only to explore the factual possibilities of a solution but also to share his story with all of us".