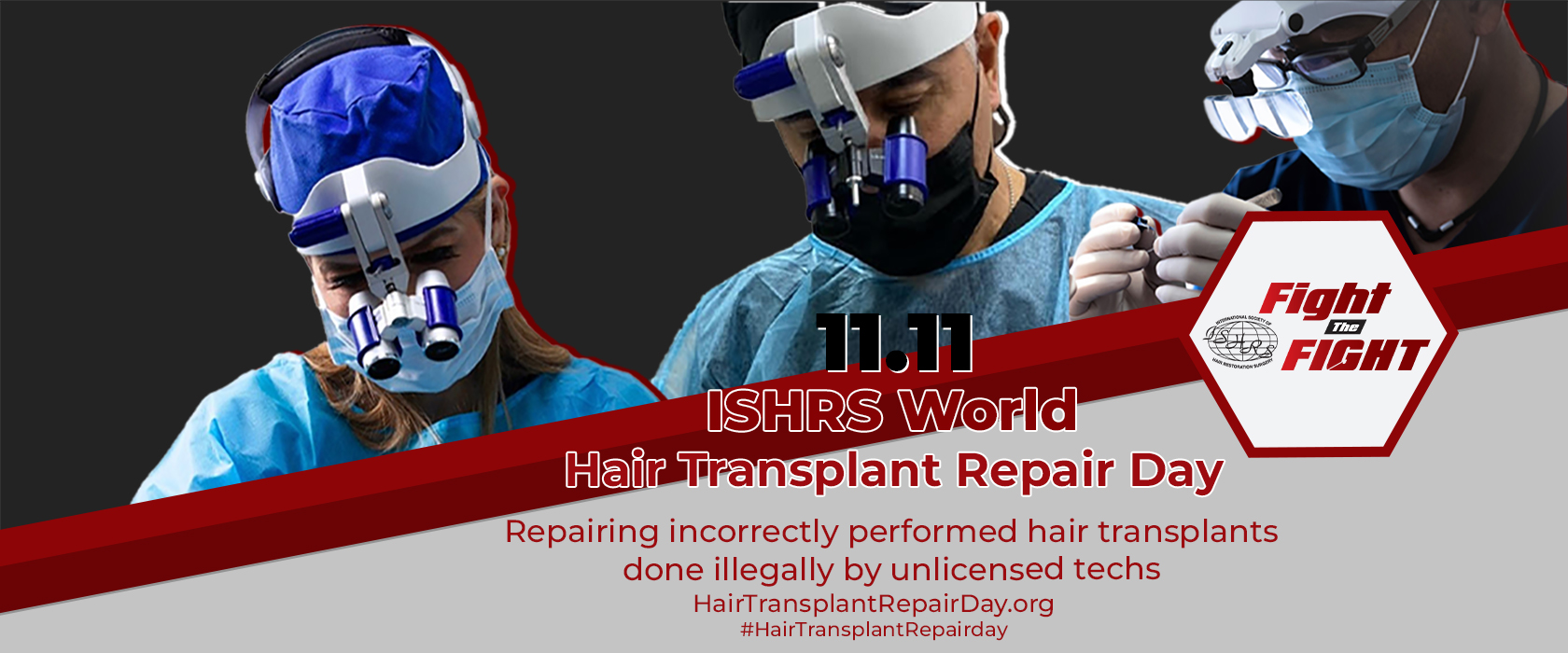 Watch the replay of Various Patient Educational Live Stream In various languages – 11.11. click here
Every day, disfiguring hair transplants are fraudulently performed by Untrained and unlicensed personnel Globally
Are you the victim of an incorrectly performed hair transplant done illegally by unlicensed technician or do you know someone who is? Victims may reach out individually, as they choose, to listed participating physicians below for a chance to receive a pro bono restorative hair transplant on November 11, 2024. Contact with the physician does not guarantee participation and pro bono procedures are limited. Local laws and regulations may apply.
Join ISHRS World Hair Transplant Repair Day to help raise awareness against illicit hair transplants
November 11, 2024 | #Hairtransplantrepairday
Since its inception on November 11, 2021, members from the International Society of Hair Restoration Surgery (ISHRS) and members of an ISHRS Global Council Society assisted patients that have been a victim of hair transplants gone wrong from illicit clinics throughout the world. Hair transplant surgeons in various countries corrected problems that have occurred with the objective of increasing awareness about the art and skill of hair transplantation.
When performed by a qualified physician, a hair transplant is an excellent procedure for treating hair loss. However, many clinics operate illegally and fraudulently without proper knowledge or training, placing unaware patients at risk and jeopardizing patient outcomes.
---
---
The ISSUES at A Glance
Vulnerable patients are lured by cheap prices and false advertising with misleading information.
Hair transplant procedures are performed illegally by unlicensed technicians.
Clinics that operate illegally create disfiguring hair transplants.
Improper surgery poses serious increased health risk with serious side effects.
The irreparable aesthetic results include permanent visible scarring, infection, thin patches of hair, poor growth, patches of bald spots, and hair depletion from over-harvested donor areas.
Patients are at risk of misdiagnosis and the performance of unnecessary surgery.
Unlicensed technicians may not be covered by malpractice insurance.
---
Participating ISHRS Members
Eleojo Achimugu, MBChB, London, United Kingdom
Konstantinos Anastassakis, MD, PhD, FISHRS, Greece
Hilda Alfaro Osterne, MD, Brasilia, Brazil
Juan Manuel Andrade, MD, Madrid, Spain
Julieta Peralta Arambulo, MD, FISHRS, Pasig City, Phillipines
Sunil Arora, MBBD, MD, MCh, Jaipur, India
Angel Sonny Bahena, MD, Guadalajara, México
Marco N. Barusco, MD, FISHRS, Port Orange, FL, USA
Arthur Barros, MD – Sorocaba, Brazil
Fernando Basto, MD, – Recife / Pernambuco, Brazil
Angelo Bellido Cabrera, MD, Lima, Peru
Aly bin Alias Stephen Nah, MD, Kuala Lumpur, Malaysia
Otavio Boaventura, MD – Belo Horizonte, Minas Gerais, Brazil
Laura Caicedo Albarello, MD, Valencia, Spain
Pablo Cirino, MD – Manaus, Brazil
Martha Gabriela Contreras, MD – Mexico City, Mexico
Robert J. Dorin, DO, New York, NY, USA
Jorge Ariel Diaz-Ramirez, MD, Mexico City, Mexico
Kapil Dua, MBBS,MS, FISHRS, Ludhiana, India
Shady El-Maghraby, MD, MSc, FISHRS – Cairo, Egypt
Hanieh Erdmann, MD – Hamburg, Germany
Bessam K. Farjo, MBChB, FISHRS, Manchester, UK
Nilofer P. Farjo, MBChB, FISHRS, Manchester, UK
Vincenzo Gambino, MD, FISHRS, Milano, Italy
Augusto Filipe Guerreiro da Silva, MD, Lisboa, Portugual
Robert S. Haber, MD, FISHRS, Beachwood, OH, USA
Steffen Hofmann, MD, Malta
Chiara Insalaco, MD, PhD, Rome, Italy
Inderjit G. Kaur, MBBS, Petaling Jaya, Malaysia
Antonio C. Khachfi, MD, Campinas, Brazil
Russel Knudsen, MBBS, FISHRS, Sydney, Australia
Ganesh Krishnan, MD, FISHRS, Birmingham, United Kingdom
Yi Yung Lin, MD, Taipei City, Taiwan
Alan Liu, MD – Taipei City, Taiwan
Nicolas Lusicic, MD – Buenos Aires, Argentina
Juan Carlos Maldonado, MD, Medellin, Colombia
Ana Maletic, MD, Zagreb, Croatia
Jennifer H. Martinick, MBBS, FISHRS – Perth, Australia
Mario Marzola, MBBS, Stepney, Australia
Members of ISHRS Global Council Societies Participating Physicians
The following list of members of the Global Society who are participating. Please contact the ABCRC for communications with the members.
Drs. Thiagos Domingos, Adele Gozales, Vanessa Muton, Ito Meirelse Filho, Dirline Roth, Tales Sabia, Marta Zollinger, Marcio Volkweis, Tatiana Tournieux, Ivan Pereira, Octavio Frascareli, Leopoldo Duailibe Santos, Renato Perali, Tayronne Vieira, Carla Fernanda Yoshimo, Mario Prota, Absisio Lemos, Beatriz Jacomo, Larissa Starling, Flavia Basilio Silva.
This list of participating ISHRS members and members of the Global Society will be updated regularly.
Any ISHRS Physician Member or member of a Global Council Society may participate.
Please note that simply by being listed as a participating member, it does not constitute an endorsement or guarantee by the ISHRS. Consumers should do their due diligence when researching providers as with any medical/surgical procedure.
Please contact the British Association of Hair Restoration Surgery for members of the Global Society who are participating by sending an email.
Please contact the American Board of Hair Restoration Surgery for members of the Global Society who are participating by sending an inquiry via their contact page.