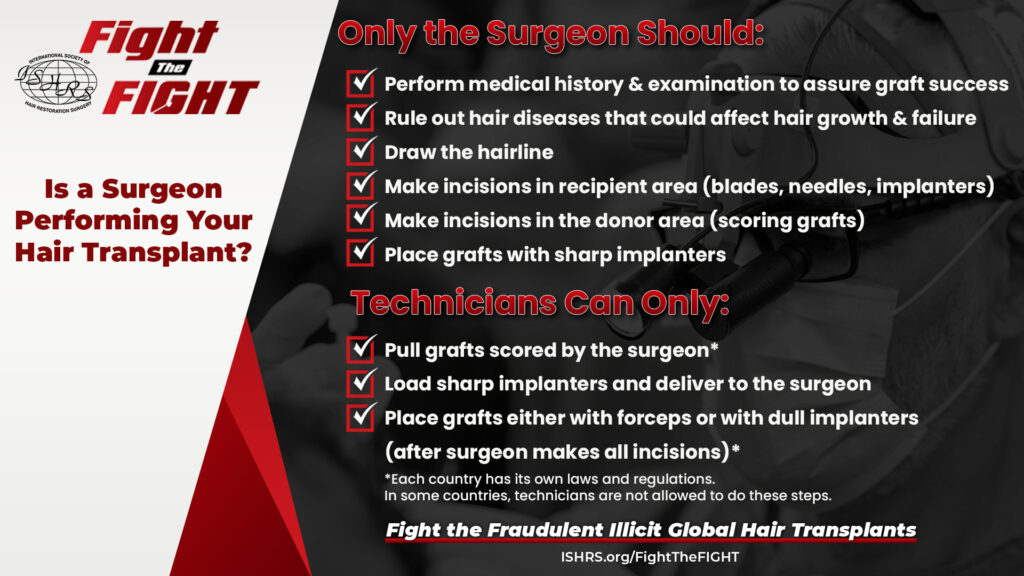 Note: Each country has its own laws and regulations on what a doctor and a technician should do.
Please check with your local health authorities.
questions you should ask
There's no such thing as a dumb question…
Before you make a final commitment for hair restoration surgery, it's a good idea to ask your hair restoration surgeon a lot of questions so you can have confidence in your decision. If you need a starting point, here are some concerns that go through patients' minds:
How do I choose a hair restoration surgeon?
Who will evaluate my hair loss and recommend a course of treatment?
Who will be involved in performing my surgery?
What is their education, training and experience in treating hair loss?
Are they licensed? Click here for more specific recommendations on training and credentials.
What should I look for when selecting the right surgeon for me?
How do I know the people performing surgery are actually qualified to perform hair restoration surgery?
Is everyone involved in my surgery covered by malpractice insurance?
What are my surgical options? See section below, The difference between FUE and FUT
What Should a doctor do in hair transplant surgery
When doing research for hair transplantation, make sure that you ask important questions including, "Will a surgeon be performing my hair transplant?"
With so many unlicensed technicians performing hair transplant surgery in illegal clinics, and in many cases without a doctor present, it is important to know what the doctor should be doing and what a technician can do. Note that each country has its own laws and regulations.
Only the Surgeon Should:
Perform medical history & examination to assure graft success
Rule out hair diseases that could affect hair growth & failure
Draw the hairline
Make incision in the recipient area (blades, needles, implanters)
Make incision in the donor area (scoring grafts)
Place grafts with sharp implanters (DHI)
What can a technician do in hair transplant surgery
Technicians Can Only:
Pull grafts scored by the surgeon
Load implanters and deliver to the surgeon
Place grafts either with forceps or with dull implanters (after surgeon makes all incisions)
Training and Credentials
No doubt you are doing your homework to choose a highly-regarded and credentialed surgeon – he/she should be the one doing your surgery.
Questions about the physician's training include:
From what medical school did the physician receive his/her M.D. (Doctor of medicine, allopathic medical), D.O. (Doctor of osteopathic medicine) or M.B.B.S. (Bachelor of medicine, bachelor of surgery, also abbreviated as, M.B.Ch.B.) degree?
What year did he/she receive the medical degree?
When was the physician licensed to practice medicine? Is he/she licensed to practice medicine in your state/province or the state/province in which the treatment will take place?
Where (hospital or medical center) did the physician complete his/her internship and residency training?
Did the physician have additional training in a medical or surgical specialty after completing residency?
Is the physician board certified or a diplomate of a legitimate certifying board? Learn more about what this means.
Does the physician hold membership in their related specialty professional society? For hair restoration surgery, this is the International Society of Hair Restoration Surgery. Do they attend scientific conferences and workshops? Membership and attendance in such societies is not essential, but it is an additional indication of commitment and advanced training.
Click here for more specific recommendations on training and credentials.
What is difference between FUT (strip) and FUE?
–Comparison between Strip Harvesting and FUE: Part 1
-Comparison between Strip Harvesting and FUE: Part 2
–Comparison between Strip Harvesting and FUE: Part 3
It is important to know that both FUT (strip) and FUE results in scars. There is no such thing as "scarless" surgery in hair transplantation. The ISHRS is concerned about false and exaggerated advertising claims related to hair restoration surgery such as "scarless surgery" or the claim that the surgery can be completely performed by a machine.
The fact is that any incision whether by machine or hand that enters the skin beyond the most superficial of depths causes a scar to form, and there is currently no machine capable of automatically performing all the aspects of the hair restoration surgery. Available technology can only assistant trained surgeons performing hair restoration surgery. Click for Red Flags and Misleading Messaging.
Frequently asked questions
How long will my procedure last? Many surgeries require multiple procedures. Patients should have a clear understanding of the time commitment necessary to achieve their desired results.
Will people notice my hair transplantation? Patients should feel comfortable addressing this significant concern upfront because a hair restoration surgeon can suggest options for making the transplantation less noticeable.
How much will it cost? Surgeons encourage patients to be open about financial questions before the surgery. Though rarely covered by insurance, deductible and co-pay questions are best handled early on. If a payment plan is required, both patient and surgeon benefit from a clear discussion on this matter.
Will it be painful? Many patients, men in particular, may be reluctant or hesitant to ask about what level of pain they should expect during the procedure. Fortunately, today's hair restoration surgeons have a number of pre- and post-operative methods that can make you comfortable and ease your mind about your surgery.
For more resources please visit ISHRS Consumer Advocacy page here.