In this video a patient shares his bad experience with a hair transplant clinic in Turkey. When doing research, the patient contacted a clinic and they told him they would transplant 5,000 hair grafts without ever having seen a picture of him. Once he arrived at the clinic, the doctor drew the hairline, but it wasn't what he wanted it to look like and she eventually agreed and changed it before the surgery. The patient was shocked because that was the only time he saw her until after the surgery. She allowed the nurses to do the entire surgery. If he knew this, he would have gone to another clinic.
He was also shocked that the doctor had four other surgeries at the same time as his surgery. She was the only doctor in the clinic and didn't perform any of the hair transplants.
The hair transplant was not successful and it made him feel even worse than before the hair transplant. He noticed there was a problem with the donor area and knew that it would not be easy to do a repair because they depleted his donor area. He realized that now, both the front and back of his hair looked bad. To top it off, during the surgery, the anaesthesia was not strong enough so the surgery was very painful.
Pictures after His Hair Transplant in Turkey
After that, he began to search for a doctor that could fix his hair. He searched for doctors with legitimate degrees, those that had certifications, years of experience and who attended official conferences for hair transplant surgeons.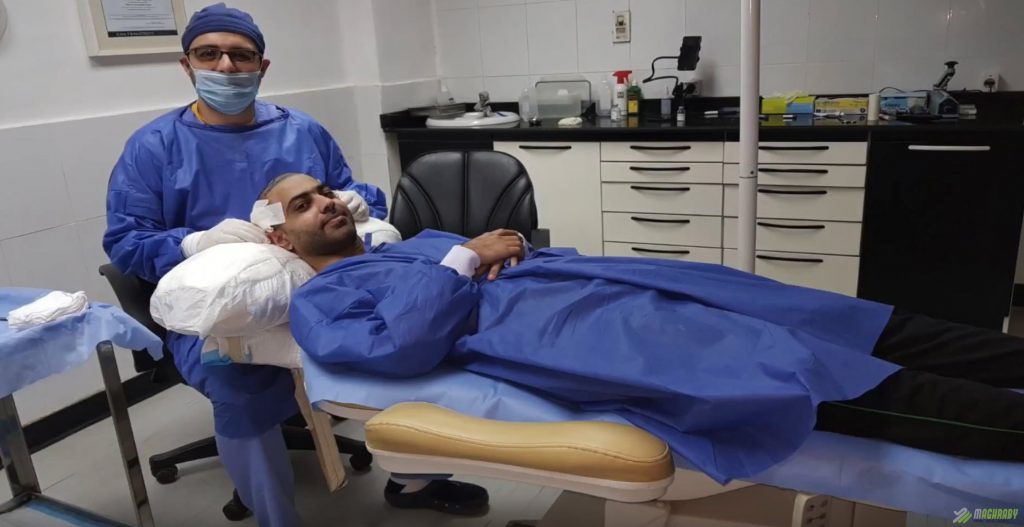 After all his research, he found Dr. Shady EL Maghraby to repair his botched hair transplant. The pictures below are the result after one year of his second surgery. He was very happy with the result which in turn made him feel good about himself again.
His advice to anyone considering a hair transplant is to do your proper research and find a qualified doctor who will not end up costing you more money and frustrated time.
Pictures After His Hair Transplant Repair with Dr. Shady El Maghraby